Inte hade jag väl kunnat ana att två inlägg på rad skulle handla om Steve Jobs men så blev det. Tyvärr. Idag — igår kväll amerikansk tid — kom beskedet att han gått bort. Man kan tycka vad man vill om Apple, om den teknologiska utveckling (och därtill kopplade sociala processer) som Jobs i så hög grad bidrog till och förknippades med, men faktum kvarstår: få människor har haft en så stor inverkan på så många andra människors dagliga liv, arbete och fritid, lek och kommunikation som Steve Jobs.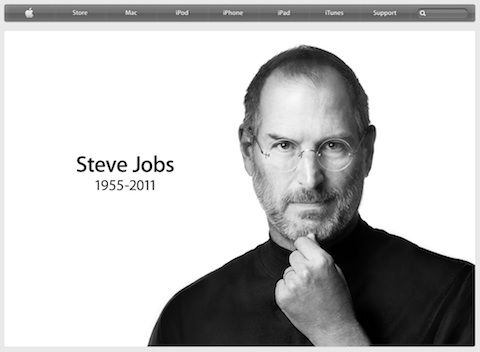 Som en symbol (eller "ikon" som många gärna uttrycker det) för vårt tidevarv finns det alltså på gott och ont få som överträffar honom, och det är därför knappast en överdrift att som i rubriken ovan skriva att "en gigant" har gått ur tiden. Att nätet idag fullkomligen flödar över av hyllningar och minnesord är därför inte så underligt. De finns snart sagt överallt vilket gör det ganska meningslöst att länka till dem, men en osedvanligt koncis och träffande karakteristik stötte jag (lite oväntat) på i president Obamas officiella reaktion på dödsbudet:
Steve was among the greatest of American innovators – brave enough to think differently, bold enough to believe he could change the world, and talented enough to do it.
Detta citat, och en del andra läsvärda länkar, hittade jag till via John Grubers populära (och i Apple-frågor ofta mycket välinformerade) blogg Daring Fireball. En mer kärnfull och rättfram, för att inte säga råbarkad, formulering av Gruber själv som delvis säger samma sak som Vita husets mer eleganta ordval: "One of Jobs's many gifts was that he knew what to give a shit about." Många skulle säkert inte hålla med, men för ännu fler stämmer det rätt väl med den bild de skapat sig av Steven P. Jobs under hans sista och mest framgångsrika år. Nu tillhör han historien.